2015 | OriginalPaper | Buchkapitel
4. Selenium Phytoremediation by Giant Reed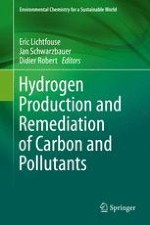 Erstes Kapitel lesen
Autoren: Hassan R. El-Ramady, Neama Abdalla, Tarek Alshaal, Miklós Fári, József Prokisch, Elizabeth A. H. Pilon-Smits, Éva Domokos-Szabolcsy
Abstract
Selenium (Se) is an essential micronutrient for humans, animals and some lower plants at very low concentrations, whereas it is extremely toxic at higher doses. Furthermore, living organisms become exposed to high Se concentrations via both anthropogenic and natural releases of Se to the environment. Thus, Se may be released naturally into soils formed from Se-bearing shales. Hence, this in turn can lead to the production of large quantities of Se-contaminated irrigation and drainage water. About the anthropogenic sources of Se, they include coal ash leachates or mining production, aqueous discharges from electric power plants, industrial wastewater and oil refinery industry. In general, Se levels in most soils are very low (0.44 mg kg−1) and naturally Se occurs in certain Cretaceous shale sediments. Furthermore, seleniferous soils contain up to 100 mg kg−1 Se, and when fossil fuels derived from these soils are used, or when these soils are cultivated, toxic levels of Se may accumulate in the environment. Hence, using of Se hyperaccumulator plants can be thrived on seleniferous soils, providing another portal for Se into the agroecosystem. These plants could be alleviated both of these problems, either as a source of dietary Se or for phytoremediation of excess Se from the environment. On the other hand, these plants also have the ability to clean up agricultural soils and industrial wastewaters, due to their capacity to not only take up and then accumulate Se but also convert inorganic Se into volatilized forms that are released into the atmosphere.
The use of giant reed (
Arundo donax
L.) plants as a trace element bioaccumulator in phytoremediation processes is the most uses of this plant, due to its capacity of absorbing contaminants from agroecosystems. It is worth to mention that, giant reed has a positive effect and high ability to restore and recover soil ecosystems after exposure to natural disasters such as bushfires. Limited reports are available on the phytoremediation potential for selenium contaminated soils by
A. donax
L. Therefore, the objectives of the present study were the exploration of potential of
A. donax
L. in phytoremediation of selenium contaminated soils based on ecological principles.