10.09.2018 | Ausgabe 6/2018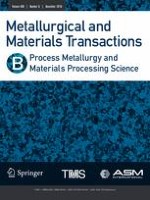 Simultaneous Removal of Silicon and Iron-Rich Phases from Coarse Al-Si Alloys Using Manganese Under Electromagnetic Field
Zeitschrift:
Autoren:

Yu Bao, Guoqiang Lv, Yibo Wang, Ting Xiao, Yunfei He, Yufeng Zhang, Yun Lei, Wenhui Ma
Wichtige Hinweise
Manuscript submitted May 27, 2018.
Abstract
Coarse Al-Si alloy is produced from bauxite
via
carbon electro-thermal reduction method. Silicon and iron-rich phases are two main detrimental impurities in coarse Al-Si alloy, and they can be simultaneously removed by adding Mn under the electromagnetic field. We focus on the influence of different Mn additions, dropping rates, and current intensity on the simultaneous removal efficiency of Si and Fe. Experimental results show that as mole ratio of Mn/Fe reaches more than 0.8, the morphology of iron-rich phases together with silicon changed from harmful acicular-like to the contributing bulks, concentrated at the bottom of Al-Si alloy as intermetallic compounds. Furthermore, when Mn/Fe reaches 1.2 and a lower dropping rate (5 to 25
μ
m/s) is adopted, both Si and Fe contents in the Al-Si alloy decreased drastically after electromagnetic directional solidification process, reaching 11.42 and 0.4 pct, respectively, with a desirable Fe removal efficiency of 91 pct. Finally, the principle of simultaneously separating Si and removing iron-rich phases from Al-Si alloy is studied deeply.