2017 | OriginalPaper | Buchkapitel
8. Special Relationships in the European Neighbourhood and Beyond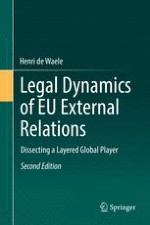 Erstes Kapitel lesen
Autor: Henri de Waele
Verlag: Springer Berlin Heidelberg
Abstract
The majority of the rules governing the special relationships with third countries reside in the innermost sphere of the layered global player. They manifest themselves at the conclusion of association agreements, at the establishment of more comprehensive frameworks such as the European Neighbourhood Policy, and in the ongoing process of EU enlargement. In these areas, the Member States are to a large extent free to act in an autonomous capacity and exercise their (residual) sovereign prerogatives. In this chapter, after a quick introduction (Sect. 8.1), we first devote attention to the theory and practice of association relationships (Sect.
8.2
), highlighting the legal basis and procedure for concluding the agreements, the institutional apparatus, as well as the effects of the rules laid down. Next, we take a look at some comprehensive policy frameworks for entertaining relations with groups of third countries (Sect.
8.3
), scrutinising in subsequent order the European Neighbourhood Policy, the Union for the Mediterranean and the Eastern Partnership. Finally, the topic of accession to the EU is brought to the fore (Sect.
8.5
), with an analysis of the relevant criteria, a discussion of the applicable procedure, and a number of reflections on the contradictory positions that have been—and still are—taken with regard to the eligibility for membership.