01.04.2015 | Ausgabe 2/2015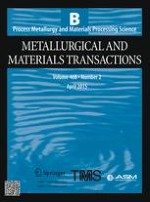 Sulfidation Kinetics of Natural Chromite Ore Using H2S Gas
Zeitschrift:
Autoren:

Sazzad Ahmad, M. Akbar Rhamdhani, Mark I. Pownceby, Warren J. Bruckard
Wichtige Hinweise
Manuscript submitted August 15, 2014.
Abstract
The kinetics and mechanism of natural chromite (FeCr
2
O
4
) sulfidation using 5 pct H
2
S (balance Ar) gas were studied in the temperature range 1173 K to 1473 K (900 °C to 1200 °C). Reaction products were examined using combined X-ray diffraction, scanning electron microscopy, and energy dispersive X-ray spectroscopy. Results indicated the formation of an outer sulfide-rich layer comprising mixed (Fe,Cr)
1−

x
S and (Cr,Fe)
1−

x
S phases, underlain by a cation-depleted diffusion zone. The kinetics investigation indicated that the reaction rate increased with increasing temperature and that the sulfidation of chromite followed a shrinking unreacted core model. It is proposed that Cr
3+
cation diffusion through the reaction product was the rate controlling step with an apparent activation energy of 166 ± 4 kJ mol
−1
. The calculated activation energy lies between the activation energy for Fe
2+
and Cr
3+
diffusion through pure chromite spinel and Fe-Cr alloy. Possible reasons for the discrepancy from pure chromite are expected to be the presence of minor Al and Mg in the natural chromite sample, and the partial pressure of oxygen under the reaction conditions used.