13.02.2017 | Original Paper | Ausgabe 2/2018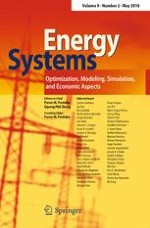 Symbiotic organism search algorithm applied to load frequency control of multi-area power system
Zeitschrift:
Autoren:

Dipayan Guha, Provas Kumar Roy, Subrata Banerjee
Abstract
In this article, a novel powerful metaheuristic optimization technique called symbiotic organism search (SOS) is proposed for the first time to solve the load frequency control problem (LFC). SOS pretends the symbiotic interaction strategies accepted by an organism to sustain in the ecosystem. Initially, an interconnected two-area reheat thermal power plant equipped with proportional–integral–derivative (PID) controller is considered for design and analysis. PID controller gains are optimally selected using SOS algorithm employing integral time absolute error based fitness function. To confirm the superiority of SOS algorithm, an extensive comparative analysis is performed with some newly published optimization methods reported in the literature. Time domain simulation results show that the dynamic stability of the concerned power system is effectively enhanced with SOS. Furthermore, the performance of the proposed method is appraised by changing system loading settings and system constraints in the range of
\(\pm 50\% \)
. To authenticate the tuning ability of proposed SOS algorithm, the study is extended to two more test systems, namely (1) an unequal nonlinear three-area power system and (2) two-area multi-unit thermal-hydro-wind-diesel power plant including generation rate constraint, governor dead band, boiler dynamics, and time delay nonlinearities. Comparison with existing LFC schemes validates the efficacy of SOS algorithm.