01.08.2014 | Original Paper | Ausgabe 8/2014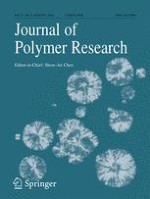 Synthesis and properties of novel copolymers of poly(ether ketone biphenyl ketone ether ketone ketone) and poly(ether ketone sulfone amide)
Zeitschrift:
Autoren:

Yu Wang, Pingping Wang, Qiang Xu, Tao Yan, Mingzhong Cai
Abstract
The monomer containing sulfone and amide linkages, namely
N,N
'-bis(4-phenoxybenzoyl)-4,4'-diaminodiphenyl sulfone (BPBDAS), was conveniently prepared by the condensation of 4,4′-diaminodiphenyl sulfone with 4-phenoxybenzoyl chloride in
N
,
N
-dimethylacetamide (DMAc). Novel copolymers of poly (ether ketone biphenyl ketone ether ketone ketone) and poly (ether ketone sulfone amide) were synthesized by the modified Friedel-Crafts acylation solution copolycondensation of isophthaloyl chloride (IPC) with a mixture of 4,4′-bis (4-phenoxybenzoyl) biphenyl (BPOBBP) and BPBDAS. The copolymers obtained were characterized by different physico-chemical techniques. The copolymers with 10–25 mol% BPBDAS are semicrystalline and had increased
T
g
s over the conventional PEEK and PEKK due to the incorporation of rigid biphenylene moieties, sulfone and amide linkages in the main chains. The copolymers III and IV with 20–25 mol% BPBDAS had not only high
T
g
s of 182–185 °C, but also moderate
T
m
s of 337–339 °C, having good potential for the melt processing. The copolymers III and IV had tensile strengths of 102.2–103.5 MPa, Young's moduli of 2.65–2.76 GPa, and elongations at break of 17.5–18.9 % and exhibited high thermal stability and excellent resistance to organic solvents.