09.01.2018 | Ausgabe 6/2018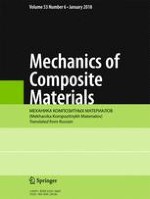 The Effect of Pigment Volume Concentration on Film Formation and the Mechanical Properties of Coatings Based on Water-Dispersion Paint and Varnish Materials
Zeitschrift:
Autoren:

I. M. Kasyanenko, V. Yu. Kramarenko
Wichtige Hinweise
Translated from Mekhanika Kompozitnykh Materialov, Vol. 53, No. 6, pp. 1103-1122, November-Decemer, 2017.
The effect of pigment volume concentration (PVC) on the film formation process and properties of coatings based on the water dispersion of an Acronal 290D styrene-acrylate copolymer and a pigment/filler system used for paint materials in construction was investigated. An analysis of the results obtained is performed within the framework of the concept of the critical PVC. It is shown that the initiation and development of internal stresses occurs the faster, the higher the PVC, but the position of the maximum or the inflection point of the internal stress–drying time curve complies with a universal value of the solid volume content in the compositions. It is found that the internal stresses and Young's modulus of coatings are characterized by an extreme concentration relation that, for the reduced elastic modulus, can be described by a system of equations based on the Halpin–Tsai equation.