15.06.2019 | Focus | Ausgabe 8/2020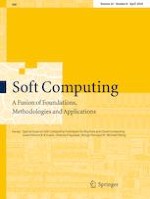 A novel metaheuristic inspired by Hitchcock birds' behavior for efficient optimization of large search spaces of high dimensionality
Zeitschrift:
Autoren:

Reinaldo G. Morais, Nadia Nedjah, Luiza M. Mourelle
Wichtige Hinweise
Communicated by B. B. Gupta.
Publisher's Note
Springer Nature remains neutral with regard to jurisdictional claims in published maps and institutional affiliations.
Abstract
In this paper, a new optimization algorithm called the Hitchcock bird-inspired algorithm (HBIA) is proposed. It is inspired by the aggressive bird behavior portrayed by Alfred Hitchcock in the 1963 thriller "The Birds." It is noteworthy to emphasize that the bird's behavior as shown in the movie is itself inspired by a considered natural birds behavior when faced with extreme conditions. HBIA is a stochastic swarm intelligence algorithm that captures the essence of the fictional behavior of the phenomenon of birds throughout the Hitchcock's film and model an optimization mechanism. The algorithm is based on the attack pattern of birds in the film, which has the stages of lurking, attack and reorganization, defined by the initialization, movement strategies in the search space and strategy of local minimum escape, respectively. The technique has as differential the use of adaptive parameters, a discretized random initialization and the use of the beta distribution. In contrast to the existing ones, the proposed technique provides an efficient optimization in high-dimensionality cost functions, using adaptive parameters, a discretized random initialization and the use of the beta distribution. Its performance is analyzed and compared to classic techniques, such as PSO, ABC and CS, as well as to the existing adaptive techniques, such as sine cosine algorithm, whale optimization algorithm, teaching–learning-based optimization and vortex search. HBIA's performance is investigated by several experiments implemented through eight cost functions. The results show that the HBIA can find more satisfactory solutions in large search spaces and high dimensionality of the evaluated cost functions when compared to the existing optimization methods.