24.08.2017 | Ausgabe 11/2017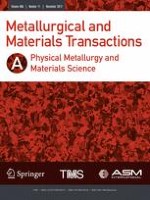 Aging Strengthening Mechanism of the Cu-1.0Zr Alloy
Zeitschrift:
Autoren:

Ka Tian, Baohong Tian, Yi Zhang, Yong Liu, Alex A. Volinsky
Wichtige Hinweise
Manuscript submitted December 11, 2016.
Abstract
The effects of different aging processes on electrical conductivity and microhardness of a Cu-1.0Zr alloy were investigated. Microstructure and precipitates of the aged alloy were analyzed by transmission electron microscopy, and the aging strengthening mechanism of the Cu-1.0Zr alloy is discussed. Good comprehensive performance of the Cu-1.0Zr alloy can be obtained by aging at 773K (500 °C) for 1 hour, for which electrical conductivity reached 80.2 pct IACS, while microhardness reached 155.6 HV. Small amounts of a Zr-rich phase and annealing twins were present in the solid solution. A large amount of 3-18 nm Cu10Zr7 precipitates were present in the copper matrix. At the early stage of aging, the precipitates were small and their density was relatively low. As aging time progressed, the precipitates gradually increased in size. After overaging, the precipitated phase was dissolved, resulting in reduced microhardness. After aging at 723 K (450 °C) for 6 hours, the precipitates were Cu10Zr7. The peak Cu-1.0Zr alloy performance was achieved after aging at 773 K (500 °C) for 1 hour, and the main reason for the performance increase is coherent strain hardening.