20.06.2019 | Electronic materials | Ausgabe 19/2019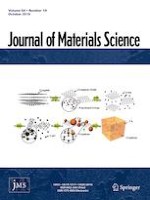 Analysis on the electronic trap of β-Ga2O3 single crystal
Zeitschrift:
Autoren:

Huiyuan Cui, Qinglin Sai, Hongji Qi, Jingtai Zhao, Jiliang Si, Mingyan Pan
Wichtige Hinweise
Publisher's Note
Springer Nature remains neutral with regard to jurisdictional claims in published maps and institutional affiliations.
Abstract
X-ray photoelectron spectroscopy (XPS), photoluminescence spectroscopy and Raman spectroscopy were applied to study β-Ga2O3 single crystals before and after annealing. By systematic analysis, the mechanism of the carrier concentration decrease after annealing was explained using electronic trap of Ga I 3+ . XPS measurements showed that the O content increases while the Ga3+ content decreases after annealing, which is related to the carrier concentration decrease. The shift of blue emission band center which related to donors was attributed to the electron capture by Ga3+ nearby conduction band. The Raman spectra confirmed this capture, as based on the Raman peak intensity changes, and the electrons were judged to be mainly captured by GaI of β-Ga2O3.