07.07.2019 | Composites & nanocomposites | Ausgabe 19/2019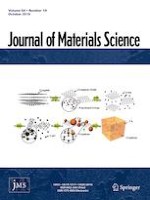 Effects of graphene oxide on the hydration behavior of ye'elimite
Zeitschrift:
Autoren:

Guojian Jing, Zhengmao Ye, Jian Cui, Cheng Li, Shuxin Liu, Jiaming Wu, Shuxian Wang, Xin Cheng
Wichtige Hinweise
Publisher's Note
Springer Nature remains neutral with regard to jurisdictional claims in published maps and institutional affiliations.
Abstract
The research on the cement hydration with graphene oxide (GO) can provide a guidance for designing GO-modified cement-based materials. Ye'elimite is the dominant mineralogical phase in calcium sulfoaluminate cement. However, an in-depth understanding of GO on the hydration behavior of ye'elimite is still lacking. Here, we demonstrate the influences of GO on the hydration process and products of ye'elimite. Firstly, GO was successfully coated on the surface of ye'elimite and then the hydration development of ye'elimite was investigated by iso-thermal calorimetry and X-ray diffraction. The results revealed that the hydration time of ye'elimite moved up at first and delayed later with the increasing amounts of GO. The addition of GO could enhance the hydration degree of ye'elimite and promote the formation of monosulfate. The complexation effect of Ca2+ and –COOH group played a negative role in the formation of ettringite. This study provides a promising way for employing GO to regulate the hydration of ye'elimite.