05.07.2019 | Electronic materials | Ausgabe 19/2019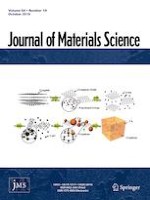 Enhanced electroluminescent performance by doping organic conjugated ionic compound into graphene oxide hole-injecting layer
Zeitschrift:
Autoren:

Pan Liu, Junna Liu, Bingbing Zhang, Wansheng Zong, Shengang Xu, Yingliang Liu, Shaokui Cao
Wichtige Hinweise
Electronic supplementary material
Publisher's Note
Springer Nature remains neutral with regard to jurisdictional claims in published maps and institutional affiliations.
Abstract
Organic conjugated ionic compound 10,10′-dimethyl-9,9′-biacridinum bis(monomethyl terephthalate) (MMT) is doped into graphene oxide (GO) hole-injecting layer to enhance the electroluminescent performance of organic light-emitting diodes (OLEDs). The composite films are characterized in detail by FTIR, SEM, XPS, and UPS. The XPS result indicates the evident
π
–
π
stacking interaction between the conjugated structures of GO and MMT. The UPS result shows the decrease in ionization potential of GO due to MMT-doping. As a result, at the optimal doping ratio of 4 wt%, the maximum luminous efficiency of OLEDs is increased to 15.46 cd/A, which is 3.4 times as 4.55 cd/A of the control device. Besides, the luminance is also enhanced to 19950 cd/m
2
, while the turn-on voltage is decreased to 2.5 V. Doping organic conjugated ionic compound into the GO hole-injecting layer is a facile and efficient approach to improve the electroluminescent performance of OLEDs.