01.06.2015 | Original Paper | Ausgabe 3/2015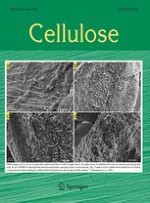 Comparative evaluation of the action of two different endoglucanases. Part I: On a fully bleached, commercial acid sulfite dissolving pulp
Zeitschrift:
Autoren:

Elisabet Quintana, Cristina Valls, Teresa Vidal, M. Blanca Roncero
Abstract
A fully bleached commercial acid dissolving pulp was treated with two endoglucanases, one obtained from
Paenibacillus barcinonensis
(B) and the other one produced from
Cerrena unicolor
(F) with the intention to improve cellulose reactivity and processability in the viscose process. B cellulase was tested under 120 U/g oven dry pulp (odp) and the F cellulase under two conditions, 12 and 60 U/g odp. In addition, a purification stage, consisting in a cold caustic extraction (CCE) of 9 % w/v NaOH, was applied before or after the enzymatic treatment in order to reduce the amount of hemicellulose and improve the action of enzymes. The treated pulps were evaluated in terms of brightness, viscosity, water retention value, fibre morphology, carbohydrate composition, Fock solubility and NMR. In general, results revealed that both endoglucanases improved cellulose reactivity, albeit in a different way; thus, B caused no scissions in the cellulose chain and no significant reduction in fibre length, whereas F strongly decreased viscosity, shortened fibre length and increased considerably the amount of fines. The result of applying two different doses of F cellulase was reflected on Fock solubility and fibre morphology. F60 treatment was found to give the highest value of Fock solubility and the biggest reduction of fibre length. The effect of both endoglucanases on Fock solubility was increased by introducing an earlier CCE stage. Finally, a CCE_B120 pulp with 3 % of hemicellulose and 69 % of Fock solubility was obtained.