13.10.2016 | Ausgabe 12/2016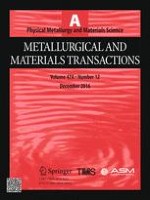 Complicated Interaction of Dynamic Recrystallization and Precipitation During Hot Deformation of Ultrahigh-Strength Stainless Steel
Zeitschrift:
Autoren:

Xiaohui Wang, Zhenbao Liu, Haiwen Luo
Wichtige Hinweise
Manuscript submitted April 18, 2016.
Abstract
A new ultrahigh-strength stainless steel was compressed at the temperature range of 1273 K to 1423 K (1000 °C to 1150 °C) with a strain rate varying from 0.01 to 10 s−1 using a thermomechanical simulator. The microstructures quenched after hot deformation were examined. It was found that dynamic recrystallization (DRX) could occur in this heavily alloyed steel during the entire studied deformation condition. In contrast, dynamic precipitation only takes place at temperatures below 1373 K (1100 °C) and its influence on DRX depends on both deformation temperature and strain rate. The critical strain for the onset of DRX increases as usual with the decreasing temperature or the increasing strain rate; however, it decreases with the increase of strain rate from 1 to 10 s−1 at the temperatures of 1273 K and 1323 K (1000 °C and 1050 °C). This is attributed to the complicated interaction of DRX and dynamic precipitation when both can occur during deformation. On the one hand, dynamic precipitation could occur during deformation below 1373 K (1100 °C) and then suppress DRX due to the pinning of migrating boundaries. On the other hand, such a suppression shall decrease when not enough particles could dynamically precipitate during the short period of deformation at a high strain rate, which should facilitate DRX. Therefore, strain rate has a complicated influence on DRX kinetics. Finally, we developed quantitative models, which can successfully predict the critical strain for DRX, the recrystallized fraction, and grain sizes using the Zener–Holloman parameter as a mere input. Moreover, this model can also simulate the unusual acceleration of DRX at the high strain rate, resulting from the above-stated complicated interaction of dynamic precipitation and DRX.