20.03.2019 | Ausgabe 8/2019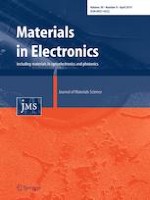 Development of asymmetric device using Co3(PO4)2 as a positive electrode for energy storage application
Autoren:

Navaneethan Duraisamy, Numan Arshid, Kavitha Kandiah, Javed Iqbal, Prabhakarn Arunachalam, Gopi Dhanaraj, K. Ramesh, S. Ramesh
Wichtige Hinweise
Navaneethan Duraisamy and Numan Arshid have contributed equally to this work.
Publisher's Note
Springer Nature remains neutral with regard to jurisdictional claims in published maps and institutional affiliations.
Abstract
A facile method for synthesis of cobalt phosphate (Co3(PO4)2) using sonic-waves irradiation. The synthesised Co3(PO4)2 samples are exhibited amorphous nature with anisotropic nano/micro rectangular morphologies. The synthesized Co3(PO4)2 samples with diverse sonication times (10 min, 1 h, 2 h and 3 h) revealed the specific capacity of 180.40, 203.40, 171.58 and 153.30 C/g at a current density of 2 A/g. An improved electrochemical activities of Co3(PO4)2 is observed with the sonication time of 1 h, which may due to the influence of fewer aggregation, lesser flakes damage and provide a more reactive sites for rapid diffusion of the electrolyte ions into the electrode surface. A fabricated supercapattery device using Co3(PO4)2 (1 h sample) as positive and activated carbon as negative electrodes, where revealed the specific capacity of 174 C/g at a current density of 0.4 A/g with a specific energy and power of 35.5 Wh/kg and 293.9 W/kg.