24.08.2019 | Original Paper | Ausgabe 4/2021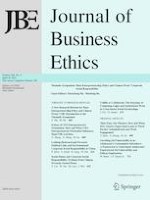 Don't Pass Them By: Figuring the Sacred in Organizational Values Work
Zeitschrift:
Autoren:

Gry Espedal, Arne Carlsen
Wichtige Hinweise
There was no difference in what I did compared to other nurses, except I wore a deaconess cross. I got the cross when I made the vow of becoming a deaconess. All deaconesses wore a cross as a necklace like this, with a personal Bible passage chosen for me on the back (…) at the end of my work, the cross was not always on the outside. (…) It was sometimes, or rather often, on the inside.
Kristine, retired deaconess and nurse at The Deaconess
On the roof, I saw a red helicopter landing light shadowing a cross. Removing the red landing light for the benefit of the cross became the first dedicated act of my new position.
Tor, chairman of the board at The Deaconess
Publisher's Note
Springer Nature remains neutral with regard to jurisdictional claims in published maps and institutional affiliations.
Abstract
How and why could some stories be construed as sacred in organizations, and what functions does the sacred have in organizational values work? Research has shown how values can be made formative of a range of organizational purposes and forms but has underscored their performative, situated, and agentic nature. We address that void by studying the sacred as a potentially salient yet under-researched realm of values work. Drawing on an ethnographic case study of a faith-based health care organization and the ethical philosophy of Paul Ricoeur, we describe how the sacred is
figured
in two sets of tales that were lived and told with surprising intensity and consistency: the parable of the Good Samaritan and the tale of the legacy bestowed by the organization's founder. We theorize how this figuring of the sacred in story and in action recasts values work from a centralized and unitary process to a two-way learning dialectic between the ongoing creative imitation of action and narrative. Values in the shape of stories of the sacred do not achieve their meaning as unchangeable cores or sanctioned beliefs. Rather, they come to life in a process of ongoing moral inquiry that co-evolves with moral agencies. In the latter regard, the sacred primarily becomes manifest in everyday work in the form of questioning and creative acts of care. People become moral agents when they feel and respond to the sacred in the call of the other.