09.06.2020 | Ausgabe 8/2020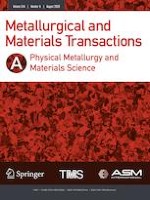 Effect of Delta Current and Delta Current Frequency on Microstructure and Tensile Properties of Gas Tungsten Constricted Arc (GTCA)-Welded Inconel 718 Alloy Joints
Zeitschrift:
Autoren:

Tushar Sonar, V. Balasubramanian, S. Malarvizhi, T. Venkateswaran, D. Sivakumar
Wichtige Hinweise
Manuscript submitted October 20, 2019.
Publisher's Note
Springer Nature remains neutral with regard to jurisdictional claims in published maps and institutional affiliations.
Abstract
The magnetic arc constriction technique was used to control the heat input-related metallurgical problems such as segregation of Nb and laves phase formation in the weld metal region of gas tungsten arc welding (GTAW) of Inconel 718 alloy. The delta current (arc constriction current) and delta current frequency are the two important parameters in controlling the arc characteristics. The main effect of the delta current and delta current frequency on the microstructural modification and corresponding influence on the tensile properties of a gas tungsten constricted arc (GTCA) welded 2-mm-thick Inconel 718 alloy sheet was investigated systematically and presented in this article. Superior tensile properties were exhibited by the joints made using a delta current of 50 A and delta current frequency of 4 kHz because of the grain refinement in the fusion zone and finer, distinct laves phase formation.