01.01.2015 | Ausgabe 1/2015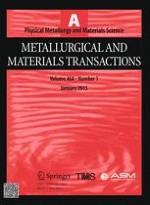 Effect of Extrusion Parameters on Texture and Microstructure Evolution of Extruded Mg-1 pctMn and Mg-1 pctMn-Sr Alloys
Zeitschrift:
Autoren:

Hemant Borkar, Mihriban Pekguleryuz
Wichtige Hinweise
Manuscript submitted August 29, 2014.
Abstract
Three Mg alloys Mg-1 pctMn (M1), Mg-1 pctMn-1.3 pctSr, and Mg-1 pctMn-2.1 pctSr were subjected to two different extrusion temperatures and two different extrusion speeds in lab-scale extrusion. The extrusion temperatures of 573 K and 673 K (300 °C and 400 °C) and two ram speeds of 4 and 8 mm/s were used at constant extrusion ratio of 7. M1 exhibited strong basal texture after extrusion at 673 K (400 °C) at higher speed. At 573 K (300 °C), recrystallization in all alloys takes place completely or partially by continuous dynamic recrystallization mechanism, while particle stimulated nucleation (PSN) occurs in all M1-Sr alloys at both extrusion temperatures and speeds. At 673 K (400 °C), grain boundary bulging is the only recrystallization mechanism in alloy M1, while it occurs in combination with PSN in M1-Sr alloys. The effect of texture weakening by PSN is more significant in M1-Sr alloys extruded at 573 K (400 °C). The plant extrusion trials were carried out on Mg-1 pctMn, Mg-1 pctMn-0.3 pctSr, and Mg-1 pctMn-2.1 pctSr at 623 K (350 °C) with different speeds than in lab-scale extrusion. M1 alloy exhibited strong basal texture at both speeds, while Sr additions of 0.3 and 2.1 pct promoted similar amount of texture weakening.