10.07.2021 | Original Research Article | Ausgabe 10/2021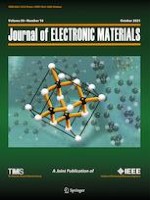 Effects of Ag Flake Addition in Sn-3.0Ag-0.5Cu on Microstructure and Mechanical Properties with High-Temperature Storage Test
Zeitschrift:
Autoren:

Jun-Ho Jang, Kyung Deuk Min, Choong-Jae Lee, Byeong-Uk Hwang, Seung-Boo Jung
Wichtige Hinweise
Publisher's Note
Springer Nature remains neutral with regard to jurisdictional claims in published maps and institutional affiliations.
Abstract
In the 3D integrated circuit package industry, the remelting of solder joints during repeated stacking processes can cause electrical failure and low bonding strength. Transient liquid phase sintering (TLPS) bonding based on forming full intermetallic compounds (IMCs) in the solder joint to increase the remelting point has emerged as a potential solution to this issue. Here, pressureless TLPS Cu-Cu bonding was conducted with Sn-3.0Ag-0.5Cu solder powders and various Ag flake powder content (15 wt.%, 30 wt.%, 45 wt.%, and 60 wt.%). The TLPS paste was screen-printed and the bonding process was conducted at 255°C for 2 h in an air atmosphere without bonding pressure. Additionally, this study investigated the microstructural evolution and fracture modes of the TLPS joints after the shear tests were investigated. High-temperature storage tests were conducted at 300°C for 24 h, 48 h, and 96 h, and a shear test was then performed to evaluate bonding strength. A differential scanning calorimetry analysis of the TLPS paste was conducted to investigate the thermal behavior of the paste during the bonding process. No residual solder was found in TLPS joints with an Ag flake content above 45 wt.% The highest bonding strength in a TLPS joint with full IMC layers was 27.3 MPa, representing an approximately 9% decrease after 96 h of high-temperature storage test. TLPS bonding with an optimal composition was resistant to the remelting of solder joints due to the full IMC layers, i.e., it represents a reliable interconnection method for 3D stacking.