30.12.2015 | Technical Paper | Ausgabe 6/2017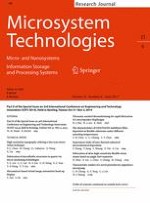 Fabrication of microfluidic structures in quartz via micro machining technologies
Zeitschrift:
Autoren:

Ying-Chieh Lin, Chung-Ching Lee, Heng-Sheng Lin, Zheng-Han Hong, Fu-Chuan Hsu, Tsung-Pin Hung, Yu-Ting Lyu
Abstract
Microfluidic channels have been created for quartz material using micromechanical manufacturing technologies such as micro laser machining, micro ultrasonic machining, and ultra-precision machining. Ultra-precision machining has been used to manufacture cross-junction channels 14 µm wide and 28 µm deep with a three-dimensional triangle cross-section. Micro laser machining has been used to manufacture U-shaped and
-shaped microfluidic channels. Deep holes and microfluidic channels with a high slenderness ratio (width/depth) can be obtained by using micro ultrasonic machining technology. These three machining techniques are compared with respect to surface profiles and machining quality.