06.04.2018 | Focus | Ausgabe 11/2018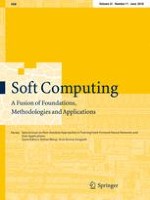 FSELM: fusion semi-supervised extreme learning machine for indoor localization with Wi-Fi and Bluetooth fingerprints
Zeitschrift:
Autoren:

Xinlong Jiang, Yiqiang Chen, Junfa Liu, Yang Gu, Lisha Hu
Wichtige Hinweise
Communicated by X. Wang, M. Pelillo, A. K. Sangaiah.
Abstract
Recently, the problem of indoor localization based on WLAN signals is attracting increasing attention due to the development of mobile devices and the widespread construction of networks. However, no definitive solution for achieving a low-cost and accurate positioning system has been found. In most traditional approaches, solving the indoor localization problem requires the availability of a large number of labeled training samples, the collection of which requires considerable manual effort. Previous research has not provided a means of simultaneously reducing human calibration effort and improving location accuracy. This paper introduces fusion semi-supervised extreme learning machine (FSELM), a novel semi-supervised learning algorithm based on the fusion of information from Wi-Fi and Bluetooth Low Energy (BLE) signals. Unlike previous semi-supervised methods, which consider multiple signals individually, FSELM fuses multiple signals into a unified model. When applied to sparsely calibrated localization problems, our proposed method is advantageous in three respects. First, it can dramatically reduce the human calibration effort required when using a semi-supervised learning framework. Second, it utilizes fused Wi-Fi and BLE fingerprints to markedly improve the location accuracy. Third, it inherits the beneficial properties of ELMs with regard to training and testing speeds because the input weights and biases of hidden nodes can be generated randomly. As demonstrated by experimental results obtained on practical indoor localization datasets, FSELM possesses a better semi-supervised manifold learning ability and achieves higher location accuracy than several previous batch supervised learning approaches (ELM, BP and SVM) and semi-supervised learning approaches (SELM, S-RVFL and FS-RVFL). Moreover, FSELM needs less training and testing time, making it easier to apply in practice. We conclude through experiments that FSELM yields good results when applied to a multi-signal-based semi-supervised learning problem. The contributions of this paper can be summarized as follows: First, the findings indicate that effective multi-data fusion can be achieved not only through data-layer fusion, feature-layer fusion and decision-layer fusion but also through the fusion of constraints within a model. Second, for semi-supervised learning problems, it is necessary to combine the advantages of different types of data by optimizing the model's parameters.