16.11.2020 | Ausgabe 7-8/2020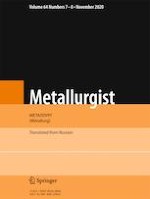 Hot-Slab Charging for Energy Conservation in Continuous Furnaces
Zeitschrift:
Autoren:

S. V. Lukin, A. A. Zbrodov, K. Yu. Levashev
Wichtige Hinweise
Translated from Metallurg, Vol. 64, No. 7, pp. 15–20, July, 2020.
We considered the thermal operating balance of a continuous furnace being charged with 250 mm-thick cold steel slabs, and perform experimental measurements of the heat loss to the environment. The required heating time and peak productivity of a hot-charged furnace were determined under the assumption that the slabs were fed into the furnace at 700–1250°С. The calculations revealed that the amount of time required to heat the slabs is much shorter, productivity is higher, the amount of heat required per metric ton of metal is smaller, the amount of heat lost to the environment is lower, and the fuel (natural gas) consumption of the furnace per metric ton of metal is much lower. We also obtained a theoretical curve for fuel consumption as a function of charging temperature; according to this curve, as the charge temperature increases from 700 to 1000°C, the specific natural-gas consumption per metric ton of metal decreases from 27.7 m3 /metric ton to 10.3 m3 /metric ton, compared with 62 m3 /metric ton for cold feedstock. We find that the energy savings in heating furnaces is maximized by feeding the slabs in immediately after they come out of the continuous billet casting machine.