05.09.2018 | Ausgabe 4/2018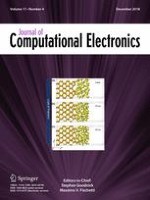 Impact of channel length, gate insulator thickness, gate insulator material, and temperature on the performance of nanoscale FETs
Zeitschrift:
Autoren:

Jibesh K. Saha, Nitish Chakma, Mehedhi Hasan
Abstract
Aggressive technology scaling as per Moore's law has led to elevated power dissipation levels owing to an exponential increase in subthreshold leakage power. Short channel effects (SCEs) due to channel length reduction, gate insulator thickness change, application of high-
k
gate insulator, and temperature change in a double-gate metal–oxide–semiconductor field-effect transistor (DG MOSFET) and carbon nanotube field-effect transistor (CNTFET) were investigated in this work. Computational simulations were performed to investigate SCEs, viz. the threshold voltage (
V
th
) roll-off, subthreshold swing (SS), and
I
on
/
I
off
ratio, in the DG MOSFET and CNTFET while reducing the channel length. The CNTFET showed better performance than the DG MOSFET, including near-zero SCEs due to its pure ballistic transport mechanism. We also examined the threshold voltage (
V
th
), subthreshold swing (SS), and
I
on
/
I
off
ratio of the DG MOSFET and CNTFET with varying gate insulator thickness, gate insulator material, and temperature. Finally, we handpicked almost similar parameters for both the CNTFET and DG MOSFET and carried out performance analysis based on the simulation results. Comparative analysis of the results showed that the CNTFET provides 47.8 times more
I
on
/
I
off
ratio than the DG MOSFET. Its better control over the threshold voltage, near-zero SCEs, high on-current, low leakage power consumption, and ability to operate at high temperature make the CNTFET a viable option for use in enhanced switching applications and low-voltage digital applications in nanoelectronics.