01.03.2015 | Original Contribution | Ausgabe 3/2015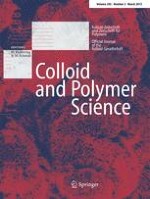 Langmuir and Langmuir-Blodgett films of Cl-PPV mixed with stearic acid: implication of the morphology on the surface and spectroscopy properties
Zeitschrift:
Autoren:

Andrei Sakai, Laura O. Péres, Luciano Caseli
Abstract
The molecular architecture of polymeric films can be changed in order to obtain enhanced properties for the fabrication of optoelectronic devices. In this paper, poly(2-chloro-
p
-phenylenevinylene) was spread on the air-water interface and mixed with stearic acid in order to form stable Langmuir monolayers. These films were transferred from the air-water interface to solid supports as Langmuir-Blodgett (LB) films. The influence of Cl in the polymer chain was investigated with measurements of surface pressure, polarization modulation infrared reflection-absorption spectroscopy (PM-IRRAS), Brewster angle microscopy (BAM), atomic force microscopy (AFM), and fluorescence spectroscopy. The immobilization of this polymer on solid supports as LB films provided a high control of its morphological and luminescence properties, which may be useful to manipulate structures at the molecular level to be applied as optoelectronic devices.
×