13.10.2016 | Ausgabe 12/2016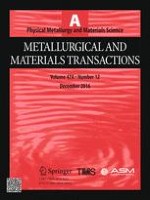 Ordering Transformation and Age Hardening in a Ni-Cr-W Superalloy
Zeitschrift:
Autoren:

Xiangyu Gao, Rui Hu, Xiaolin Li, Gongliao Luo, Jinshan Li, Hengzhi Fu
Wichtige Hinweise
Manuscript submitted April 6, 2016.
Abstract
The microstructural changes occurring in a Ni-Cr-W superalloy during prolonged exposure to proper temperature have been investigated using transmission electron microscopy. It is demonstrated that nanometer-sized C11b (Pt2Mo-type) and DO22 superlattices can precipitate in the Ni-Cr-W alloy by means of a simple aging treatment at temperatures varying in the range of 773 K to 973 K (500 °C to 700 °C). The mechanism of transformation to long-range order has been revealed to accord with continuous mode based on transmission electron microscopy results and variation trend in Vickers microhardness. No signs of overaging and coarsening of C11b and DO22 phases with further aging have been found, which indicates that both of them have a high-thermal stability. The orientation relationships and interfaces between C11b/DO22 precipitates and Ni-based matrix have been investigated by high-resolution transmission electron microscopy, and the results reveal that the interfaces between C11b/DO22 precipitates and surrounding matrix are coherent at the atomic scale. Because of the high-density nanometer-sized C11b/DO22 precipitates, the microhardness of the alloy is improved remarkably.