Erschienen in: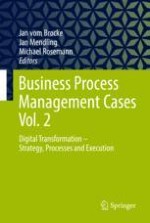 2021 | OriginalPaper | Buchkapitel
Planning and Scoping Business Process Management with the BPM Billboard
Abstract
This chapter introduces the BPM Billboard as a tool for planning and scoping Business Process Management (BPM) projects and programs. The BPM Billboard is grounded in the belief that BPM is a means to an end, not the end itself. It links BPM initiatives to strategic objectives and ensures that BPM creates tangible results toward achieving those objectives by systematically developing the required, context-specific organizational capabilities. The BPM Billboard structures everything that needs to be considered for BPM initiatives to be successful and provides a cockpit view allowing process managers to comprehensively plan, manage, assess, and communicate BPM initiatives. As such, the BPM Billboard also serves as a framework for the many BPM cases presented in this book. In this chapter, we introduce the BPM Billboard and provide a practical example to demonstrate its applicability. Furthermore, we outline how to use the BPM Billboard in process work. Finally, we explain how the cases in this book relate to the BPM Billboard and provide a brief overview of the cases discussed in the individual chapters that follow.