06.11.2019 | Original Paper | Ausgabe 4/2021 Open Access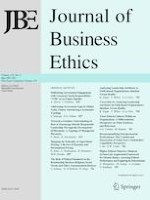 Politicising Government Engagement with Corporate Social Responsibility: "CSR" as an Empty Signifier
Zeitschrift:
Autoren:

Anna Zueva, Jenny Fairbrass
Wichtige Hinweise
Publisher's Note
Springer Nature remains neutral with regard to jurisdictional claims in published maps and institutional affiliations.
Introduction
However, to date, the underlying logic of a government's engagement with CSR has received limited analytical scrutiny. Overwhelmingly, the existing literature implicitly or explicitly assumes that the role of governments in this policy area is underpinned by a sense of accountability to the electorate and an attendant obligation to address certain social goals, meet environmental protection standards and/or particular economic growth objectives. In this context, governments are largely understood as socially- and/or business-oriented actors and are not considered to be "political" actors with their own interests: they are thought to be merely serving or assisting the public good.
We support our contention about the politicisation of government engagement with the "CSR" notion by analysing the government discourse in one country, the Russian Federation, during one particular historical period, 1991–2012. Our analysis indicates that the office of the President of the Russian Federation used "CSR" as a discursive device that helped it locate large Russian businesses as subordinate to the government and legitimise the government coercion of those business organisations. Accordingly, we proffer a theoretical understanding of government use of the CSR notion not only as a technical or technocratic exercise in achieving particular social and economic goals, but also as a political activity where governments can employ the signifier "CSR" in power struggles to position themselves in certain ways vis-à-vis other social actors.
Accounting for Government Engagement with CSR: Some Alternative Explanations
It is possible to identify several main interpretations of how and why governments may involve themselves in CSR, ranging from the perceived decline of states to the putative failure of a voluntary approach to CSR and to the consequence of insufficient business resources or the government as a self-interested political actor. We now turn to discuss each of these understandings in turn so as to provide the context for subsequent empirical and theoretical sections of this paper.
Social Theory of Hegemony and "CSR" as a Political Tool
Methods
We have selected Russian federal government CSR policy as an illustrative case to support our contention that government engagement with CSR should be treated more critically for the following reasons. Firstly, given that the Russian government has not been particularly known for its focus on social and environmental concerns, this is a fruitful situation in which to explore governmental uses of the "CSR" term that may not have been driven by such considerations (De Mesquita et al.
2005
). In addition, during the time period that we examine, Russian governments did begin to engage with the subject of non-financial responsibility of business and so could provide us with illuminating data. The form of engagement we observed could be said to resemble the "agora" approach (Albareda et al.
2008
; Crotty
2014
), that is the creation of and participation in forums where CSR and related topics were discussed by various stakeholders and certain expectations with regard to responsible business conduct were expressed. Finally, the development of Russian government CSR engagement contained both periods of relative lack of conflict between government and business and also periods of open antagonism. Laclau and Mouffe's (
1985
) pre-condition for the emergence of empty signifiers is social antagonism or the existence of opposing discursive positions.
[T]he two conditions of hegemonic articulation are the presence of antagonistic forces and the instability of frontiers which separate them (pp. 134–136).
Thus, periods of antagonism between the Russian government and businesses offers a fertile ground for the examination of "CSR" as an empty signifier. The periods of relative accord and harmony furnish a useful comparison.
At the start of our analysis below, we provide a brief description of the different periods in the emergence of Russian federal government-business relations as a way to contextualise the interpretation of our data. We delineate the temporal boundaries of our research from the establishment of the Russian Federation in 1991 to the mature stage of the international financial crisis in 2012. Whilst pre-1991 and post-2012 events are by no means irrelevant, the demise of the Soviet Union and the 2014 conflict with Ukraine created radically different societal and political relations within Russia, and their analysis is outside the scope of this article.
With regard to the specific data collection and analyses methods, Laclau and Mouffe are famously non-specific (Jørgensen and Philips
2002
; Howarth
1998
; Walton and Boon
2014
). As a result, in translating our theoretical stance into specific research methods we relied on existing publications containing discourse analyses based on the social theory of hegemony (e.g. Contu and Girei
2014
; Contu et al.
2013
; Kenny and Scriver
2012
; Methmann
2010
) and on the attempt by Walton and Boon (
2014
) to explicitly construct a Laclau and Mouffe-inspired discourse analysis methodology.
We constructed our case study by analysing both verbal and written utterances
1
of the Russian federal government and parliamentary officials that included the "CSR" term and related terms such as "responsibility of business". The English term "Corporate Social Responsibility" translates straightforwardly into Russian as "Кopпopaтивнaя Coциaльнaя Oтвeтcтвeннocть". It is, however, often shortened to "responsibility of business" ("oтвeтcтвeннocть бизнeca") or "social responsibility" ("coциaльнaя oтвeтcтвeннocть") or adjusted somewhat to "social responsibility of business" ("coциaльнaя oтвeтcтвeннocть бизнeca"). These are terms that are less cumbersome to pronounce in Russian but that carry the same broad connotations of business conduct that is mindful of its impact on society and environment.
2
We employed all these terms in our data search and treated all of them as potential empty signifiers equivalent to "CSR".
Our data set included a variety of Russian federal government records such as legislature and presidential decrees, policy papers, and national strategy documents publicly available in online repositories. We supplemented the government documentation with a large volume of data on business-government CSR-related interaction from less formal sources such as newspapers and news channels. Our data search was systematic: we ensured that we covered every year between 1991 and 2012, explored documents relevant to every major government body (the parliament and the office of the president), and traced the utterances of key state officials (namely Vladimir Putin and Dmitri Medvedev). We searched for documents that contained "CSR" and equivalent terms and also for those we could reasonably expect to contain them (e.g. policy documents on Russian national sustainable development). As we aimed to explore "CSR" as an empty signifier, we did not look for the use of "CSR" and equivalent terms that was aligned with a specific definition but solely for the presence of "CSR" and equivalent terms such as "responsibility of business" in the text.
As a result, we amassed a large variety of sources: presidential decrees, government reports, news articles, transcripts of parliamentary hearings, records of televised interviews, accounts of meetings with state officials published by business organisations, and video recordings of government officials' speeches.
Our analysis of the documents focused on articulations and the chain of equivalence produced through the use of the "CSR" (or equivalent) signifier (Howarth
1998
). It included two distinct but partially overlapping stages. The first stage involved mapping out the timeline of the Russian government's use of the "CSR" term and the contexts where it took place. The skeleton for the timeline was provided by the existing publications on the history of the business-government relations in post-Soviet Russia. We coded our textual data, noting how the extent of government references to "CSR" (or equivalent) varies across different historical periods set out in the skeleton timeline. In addition, we identified the different fora (such as formal policy documents, parliamentary hearings) and different relational situations (including the interactions between the president and the business leaders versus the interactions between the parliament and the business leaders) where terms such as "CSR" and "responsibility of business" appeared. This allowed us to develop an overall understanding of the events and the social actors involved that structured our subsequent interpretation and helped us identify patterns in our data (Contu and Girei
2014
; Walton and Boon
2014
). It also meant that in the second stage of analysis we could employ a logic of deconstruction, in other words we could make visible the contingent nature of "CSR" significations by examining how these significations changed across time periods and relational contexts (Kenny and Scriver
2012
; Spicer and Fleming
2007
). Finally, an analysis of the ways in which the intensity of the use of "CSR" (or equivalent) varied across temporal and relational contexts contributed to our contention that "CSR" functioned as an empty signifier.
In the second stage, we explored and coded the articulations of "CSR" and equivalent terms such as "responsibility of business" in the government discourse. We also identified the themes that were closely linked to these terms: for example, presidential explanations of why Russian businesses should care about responsibility or the topics that consistently served as background for the discussion of responsibility. Overall, we searched for paradigmatic relationships (a relationship where discursive elements are able to stand for one another) between "CSR" or equivalent terms and other elements present in the government discourse (Contu and Girei
2014
). This allowed us to determine the discursive chain of equivalence held together by the "CSR" signifier. From this process we were able to discern the function that the "CSR" played in the government discourse.
While we did not purposefully set out to analyse CSR-related discourses used by social actors other than the government, we could not help but note the Russian business leaders' articulation of "business responsibility". This was a side-effect of the fact that many government CSR-related iterations occurred in the context of discussions with the business leaders. A systematic analysis of business articulations was outside the remit of this paper. Nonetheless, the business articulations that we captured do provide a point of comparison that revealed the "slippage" (Spicer and Fleming
2007
, p. 521) in the articulations of "CSR" and enriched our understanding of the function of the "CSR" signifier in the Russian governments' discourse.
The two-phase analysis is reflected in our report of the findings below. We begin by briefly outlining the key periods in the development of the Russian federal government-business relations. We then use this timeline to discuss the timing of the appearance of the "CSR" (or equivalent) signifier in government discourse. This is followed by an examination of how "CSR" was articulated across different relational contexts and by an in-depth exposition of the "CSR" articulations in the context that emerged as the most important forum: the meetings between the President of the Russian Federation and the leaders of major Russian companies. Finally, we bring all the elements together in a discussion on the function of the "CSR" signifier in the Russian government discourse.
The Case of Russian Federal CSR Policy
Discussion
In this section, we summarise our findings and provide a brief discussion of how we see the contributions of our study in relation to the existing scholarly discussions on governmental engagement with CSR. We will also reflect on the generalizability of our results to contexts other than Russian Federation.
Conclusion
The aim of our research was to question the predominant understanding of government as a benign actor in the literature on government engagement with CSR. Drawing on Laclau and Mouffe's (
1985
) social theory of hegemony has enabled us to consider "CSR" from a different ontological perspective and to treat it as a constitutive element of discourse rather than a denotation of particular organisational behaviours. Our analysis of the government's use of "CSR" in the Russian Federation demonstrates that "CSR" can function as an "empty signifier"—a privileged discourse element that serves establish hegemonic discourses that erase antagonisms between different social actors. In the case of the Russian Federation, viewing "CSR" as an element of discourse has allowed us to demonstrate how it has served to legitimise the dominance of the Russian government over large Russian business organisations. Ultimately, we suggest that it is not only businesses but also the governments that can hijack the notion of CSR to promote agendas other than social development and environmental protection. We therefore call for more detailed and critical study of government engagement with CSR across a range of types of polities and economies worldwide.
Compliance with Ethical Standards
Conflict of interest
The authors declare that they have no conflict of interest.
Ethical Approval
This article does not contain any studies with human participant performed by any of the authors.
Open Access
This article is distributed under the terms of the Creative Commons Attribution 4.0 International License (
http://​creativecommons.​org/​licenses/​by/​4.​0/​
), which permits unrestricted use, distribution, and reproduction in any medium, provided you give appropriate credit to the original author(s) and the source, provide a link to the Creative Commons license, and indicate if changes were made.
Publisher's Note
Springer Nature remains neutral with regard to jurisdictional claims in published maps and institutional affiliations.