01.05.2019 | ORIGINAL PAPER | Ausgabe 5/2019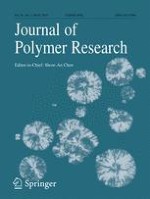 Poly[1,3,6,8-tetra(2-thiophenyl)pyrene] and poly[1,3,6,8-tetra(3-thiophenyl)pyrene] conjugated microporous polymers for reversible adsorbing and fluorescent sensing iodine
Zeitschrift:
Autoren:

Tongmou Geng, Lanzhen Ma, Guofeng Chen, Can Zhang, Weiyong Zhang, Hongyu Xia, Hai Zhu
Wichtige Hinweise
Electronic supplementary material
Publisher's note
Springer Nature remains neutral with regard to jurisdictional claims in published maps and institutional affiliations.
Abstract
Two thiophene- and pyrene-based conjugated microporous polymers poly[1,3,6,8-tetra(2-thiophenyl)pyrene] and poly[1,3,6,8-tetra(3-thiophenyl)pyrene] (PTThP-2 and PTThP-3) were designed and prepared through a FeCl3 oxidative coupling polymerization. The PTThP-2 and PTThP-3 possess considerable BET surface area of over 370.8 m2 g−1 and 748.2 m2 g−1, large pore volume of 0.544 cm3 g−1 and 0.573 cm3 g−1, good stability, and display excellent guest uptake of 1.62 and 2.00 g g−1 in iodine vapour. Furthermore, incorporation of pyrene and thiophene moieties into these polymers can induce high fluorescence in the dispersions of tetrahydrofuran (THF), which make them sensing electron-deficient iodine via fluorescence quenching with the Ksv of 1.99 × 103 and 5.09 × 103 L mol−1, and the limit of detection of 7.54 × 10−8 and 2.95 × 10−8 mol L−1, respectively.