01.02.2011 | Original | Ausgabe 1/2011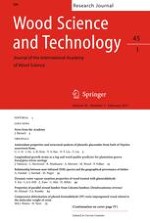 Rapid assessment of physical properties and chemical composition of thermally modified wood by mid-infrared spectroscopy
Zeitschrift:
Autoren:

Marcos M. González-Peña, Michael D. C. Hale
Abstract
Characterisation, quality assessment and property prediction are several of the major industrial challenges for widespread acceptance of thermally modified wood (TMW). This study shows the potential of the multivariate analysis of mid-infrared (MIR) spectral data for the prediction of impact strength, five mechanical parameters in bending, moisture content, weight loss, density and chemical composition of small specimens of thermally modified beech, Norway spruce and Scots pine woods. Anti-swelling efficiency was also studied using DRIFT spectroscopy for spruce wood only. Calibrations were successfully accomplished by partial least-squares regression, with
R
Y
2
and
Q
CUM
2
values >0.96 for 64 out of 67 models. Predictions were also successful, with relative prediction values >0 and RMSEP:SD ratios <1 in most cases. Changes in the MIR spectra of TMW show that bands arising from the lignin environment and new bands appearing due to the degradation of carbohydrates, giving negative loadings, were related to strength loss, while those bands arising from the polysaccharides were associated with property retention. It is concluded that this approach is a powerful tool to characterise a number of properties of TMW with a single after-treatment measurement.