14.09.2019 | Original Research | Ausgabe 18/2019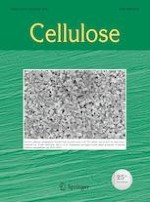 Synthesis of ethyl cellulose/aluminosilicate zeolite nanofibrous membranes for oil–water separation and oil absorption
Zeitschrift:
Autoren:

Shahnaz Koushkbaghi, Sana Jamshidifard, Abolfazl ZabihiSahebi, Aliasghar Abouchenari, Meisam Darabi, Mohammad Irani
Wichtige Hinweise
Publisher's Note
Springer Nature remains neutral with regard to jurisdictional claims in published maps and institutional affiliations.
Abstract
ZSM-5 (Seolite Sconoy Mobil) aluminosilicate zeolites synthesized by the hydrothermal method were incorporated into the hydrophobic ethyl cellulose (EC) nanofibrous membrane. The performance of synthesized nanofibers was investigated for a gravity driven oil–water separation. The synthesized ZSM-5 nanozeolites and EC/ZSM-5 composite nanofibers were characterized using XRD, FESEM, XPS, FTIR and AFM analysis. The permeability of EC/ZSM-5 5 wt% for oil in water mixture was in order of
n
-hexane (5170 ± 60 L/m
2
h) > 
n
-heptane (4600 ± 50 L/m
2
h) > cyclohexane (4350 ± 35 L/m
2
h) > pump oil (3780 ± 28 L/m
2
h) > lubricating oil (3200 ± 25 L/m
2
h) > motor oil (2980 ± 20 L/m
2
h) with a separation efficiency higher than 99.90% for the studied oil/water mixtures separation. The potential of nanofibers toward oil absorption from oil/water mixtures was also investigated for 7 cycles of absorption process. The absorption capacity was found to be 525.6, 423.4 and 198.3 g/g for motor oil, cyclohexane and
n
-heptane using EC/ZSM-5 nanofibers. The obtained results revealed that ZSM-5 loaded-EC nanofibrous membranes can be used as efficient membranes for oil/water separation.