01.06.2015 | Research Paper | Ausgabe 6/2015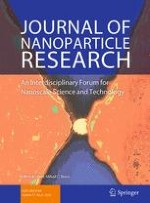 TiO2 nanoparticles alleviate toxicity by reducing free Zn2+ ion in human primary epidermal keratinocytes exposed to ZnO nanoparticles
Zeitschrift:
Autoren:

Mustafa Hussain Kathawala, Kee Woei Ng, Say Chye Joachim Loo
Wichtige Hinweise
Electronic supplementary material
The online version of this article (doi:
10.​1007/​s11051-015-3068-4
) contains supplementary material, which is available to authorized users.
Abstract
Nanoparticles have been a subject of intense safety screenings due to their influx in various applications. Although recent studies have reported on the plausible cytotoxicity of nanoparticles, many of these focused only on single-material nanoparticles, while the cytotoxicity of dual-nanoparticle systems (e.g., ZnO with TiO2) has remained unexplored. For example, commercial products like sunscreens and cosmetics contain both nano-sized ZnO and TiO2, but cytotoxicity studies of such systems are meager. In this paper, the cytotoxicity of this dual-nanoparticle system comprising both ZnO and TiO2 was evaluated in vitro on skin-mimicking human primary epidermal keratinocytes (HPEKs). Inductively coupled plasma mass spectrometry, flow cytometry, and confocal microscopy were used to investigate the uptake of nanoparticles and free ions. Results revealed that ZnO nanoparticles were partially soluble (up to 20 μg ml−1 after 1 day) and could induce strong cytotoxicity as compared to the insoluble TiO2 nanoparticles which remained non-toxic until very high concentrations. It was found that TiO2 nanoparticles could play "vigilante" by protecting keratinocytes from acute toxicity of ZnO nanoparticles. This is in agreement with the observation that TiO2 nanoparticles caused an attenuation of free intracellular Zn2+ ions concentration, by adsorbing and immobilizing free Zn2+ ions. This study reveals a unique dual-nanoparticle observation in vitro on HPEKs, and highlights the importance of dual-nanoparticulate toxicity studies, especially in applications where more than one nanoparticle material-type is present.