01.12.2010 | Ausgabe 12/2010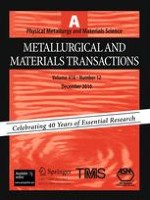 Using Response Surface Methodology to Model the Age Hardening of AA6061
Zeitschrift:
Autoren:

Kamran Dehghani, Atiye Nekahi
Wichtige Hinweise
Manuscript submitted November 26, 2009.
Abstract
The combination effect of preaging and cold work on subsequent final aging of AA6061 was modeled using response surface methodology (RSM) and central composite design (CCD). These techniques were applied to model and optimize the main variables of two-step aging combined with cold working. Two models were developed for elongation and final yield stress (FYS) after final aging. Also, several combinations of preaging, cold work, and final aging were tried to study and optimize the aging response of this alloy. The best combinations of aging variables were then determined in order to attain the highest strength. The model developed for the response of FYS predicted that the optimum conditions were homogenizing at 833 K (560 °C) for 6 hours and preaging at 323 K (50 °C) for 4 hours, followed by cold deformation to 80 pct and final aging at 433 K (160 °C) for 2 hours. Testing under these conditions resulted in a FYS of about 445 MPa, which was in accordance with the amount predicted by the model. The FYS and elongation predicted by the developed models were found to be in very good agreement with experimental results, indicating the high accuracy of developed models. The analysis of variance (ANOVA) and the 2D-contour plots were also used to evaluate the accuracy of the developed models and to predict the optimal condition for aging of AA6061. Using the 2D-contour plots, the significance of parameters during the two-step aging of AA6061 was studied as well.