28.08.2019 | Ausgabe 11/2019 Open Access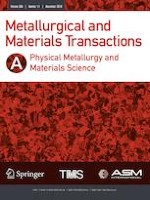 Using Variant Selection to Facilitate Accurate Fitting of
γ

″ Peaks in Neutron Diffraction
Zeitschrift:
Autoren:

R. Y. Zhang, H. L. Qin, Z. N. Bi, J. Li, S. Paul, T. L. Lee, B. Nenchev, J. Zhang, S. Kabra, J. F. Kelleher, H. B. Dong
Wichtige Hinweise
Manuscript submitted February 8, 2019.
Publisher's Note
Springer Nature remains neutral with regard to jurisdictional claims in published maps and institutional affiliations.
Abstract
γ
″ diffraction peaks are hard to discern in neutron/X-ray diffraction patterns, hindering studies on the
γ
″-strengthened superalloys using
in-situ
diffraction. In this study, we propose a variant selection method to increase the intensity of
γ
″ peaks and to facilitate accurate fitting. The specific variants of
γ
″ are controlled by applying a 300 MPa tensile stress during aging at 790 °C for 5 hours. The interaction energy between the applied stress and the transformation strain of each
γ
″ variant differs, leading to an increase in the amount of the variants with a greater energy reduction at the expense of other variants. The enhanced variants result in greater
γ
″ peak intensities in neutron diffraction patterns, allowing both the Pawley refinement and single peak fitting to be performed. Lattice parameters of
γ
″ and
γ
phases, and lattice misfit between the two phases and volume fraction of
γ
″ are acquired. The uncertainties associated with the fitting maintain an acceptable level corresponding to 150 microstrains. The proposed variant selection method shows potential for studying the role of
γ
″ phase in Ni-base superalloys.