01.03.2015 | Ausgabe 1/2015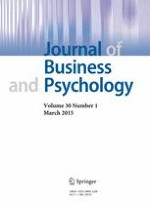 What Do You Want To Be? Criterion-Related Validity of Attained Vocational Aspirations Versus Inventoried Person–Vocation Fit
Zeitschrift:
Autoren:

Bernd Marcus, Uwe Wagner
Abstract
Purpose
Despite the widely held belief that fit or congruence between vocational interests and practiced vocations leads to better satisfaction and performance, observed relations between person–vocation fit and these criteria tend to be weak. The purpose of the present study is to investigate whether satisfaction and performance are more strongly related to the expressed attainment of vocational aspirations than to indirectly measured person–vocation fit based on vocational interests.
Design/methodology/approach
Data were obtained from a sample of German job apprentices (
N
= 272) and their supervisors. Attainment of aspirations, subjective (same source), and objective (different sources) measures of person–vocation fit were related to six different criteria (self und supervisory ratings of job performance; training grades; counterproductive behavior; level and constructiveness of job satisfaction).
Findings
In hierarchical multiple regressions, attainment of aspirations accounted for incremental variance in five out of six criteria beyond inventoried person–vocation fit, regardless of whether fit measures were based on ratings of interests and environment obtained from the same or from different sources. By contrast, each of the fit measures showed incremental validity for only one criterion. In all but one of the 12 analyses, validity coefficients were stronger for attainment of aspirations than for inventoried person–vocation fit.
Originality/value
To our knowledge, this is the first study that compared the validity of aspirations and inventoried person–vocation fit for a broad range of job-relevant criteria. Results imply that both vocational counselors and prospective employers should pay more attention to a person's subjective and explicit judgment in this area of psychological assessment.