01.03.2015 | Ausgabe 1/2015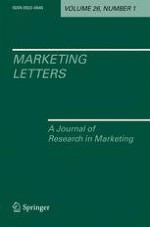 When is the best time to reactivate your inactive customers?
Zeitschrift:
Autoren:

Shaohui Ma, Hui Tan, Fang Shu
Abstract
In a noncontractual setting, it is impossible to tell whether a specific customer is still active or he/she has already defected. A popular approach to identify active customers is to calculate the probability of being active based on the Pareto/negative binomial distribution (NBD) model. Building on the Pareto/NBD, we assume that a firm can take direct marketing actions to reactivate an "inactive" customer with a certain cost. So, the firm has to determine the optimal cutoff threshold of the probability of being active to identify inactive customers to trigger reactivations. We propose a continuous time dynamic model, which aims at maximizing customer lifetime value and finding the optimal time to reactivate inactive customers. We develop a Markov chain Monte Carlo algorithm to obtain the model parameters at individual level. The empirical study shows that selecting optimal threshold for reactivation can be a profitable strategy to influence the lifetime value of customers.