01.02.2011 | Original Contribution | Ausgabe 4/2011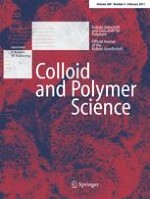 Chemical synthesis and optical properties of CdS–poly(lactic acid) nanocomposites and their transparent fluorescent films
Zeitschrift:
Autoren:

Cai-Feng Wang, He-Yi Xie, Yu-Peng Cheng, Li Chen, Michael Z. Hu, Su Chen
Abstract
This paper describes the first synthesis of cadmium sulfide (CdS)-poly(lactic acid) (PLA) nanocomposites and their transparent fluorescent films by covalently grafting PLA onto the surfaces of CdS nanocrystals (NCs). Synthesis of the nanocomposites involved two steps. Lactic acid (LA)-capped CdS NCs were first prepared by reacting cadmium chloride (CdCl
2
) with sodium sulfide (Na
2
S) using LA as the organic ligand in H
2
O/
N
,
N
-dimethylformamide (DMF) solution. CdS–PLA nanocomposites were then formed by in situ ring-opening polymerization of lactide on the surface of modified CdS NCs. We also demonstrated herein the fabrication of the transparent fluorescent films of CdS–PLA nanocomposites by blending as-prepared nanocomposites with high-molecular-weight PLA. The as-prepared CdS NCs and their nanocomposites were studied by transmission electron microscopic imaging, thermogravimetric analyses, and spectroscopic measurements (ultraviolet–visible absorption and photoluminescence). The results revealed that the CdS–polymer nanocomposites exhibited good optical properties in terms of their photoluminescence and transparency.