05.01.2016 | Ausgabe 3/2016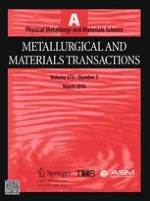 High Temperature Strength and Stress Relaxation Behavior of Dilute Binary Mg Alloys
Zeitschrift:
Autoren:

Saeideh Abaspour, Carlos H. Cáceres
Wichtige Hinweise
Manuscript submitted December 5, 2014.
Abstract
Monotonic compression and stress relaxation tests were carried out on specimens of 6 cast binary alloys with (at. pct) 2.5 Al, 0.6 Sn, 2.2 Zn, 0.9 Nd, 0.8 Gd and 1.3 Y, and of a similarly cast AZ91D alloy for reference. The solute concentration of the binary alloys was kept deliberately low to limit precipitation hardening effects during the testing, done in the solution heat treated and quenched condition. Compression testing was carried out at 298 K, 373 K and 453 K (25 °C, 100 °C and 180 °C) for all of the alloys and at 493 K and 523 K (220 °C and 250 °C) for the Nd-, Gd- and Y- containing ones. Stress relaxation was done at 453 K (180 °C) at either a predetermined strain (0.05) or stress (150 MPa). The Mg-Al and the AZ91 alloys softened considerably above 373 K (100 °C). The rest of the alloys exhibited increasing linear strain hardening in compression and reduced stress relaxation, in the order Sn, Zn, Nd, Gd and Y, an indication of a progressively stable dislocation substructure, hence of an increasingly extended athermal regime in the strength-temperature relationship. The overall strain hardening behavior matches that of commercial alloys involving the same solutes at comparable or higher concentrations, and can be accounted for through the respective tendency of the solute atoms to develop short range order. This tendency is lowest for the near-random solid solution introduced by Al, and highest for Nd, Gd and Y, in agreement with their respective phase diagrams. The implications for creep resistant alloy selection and design are discussed.