27.10.2017 | Ausgabe 3-4/2017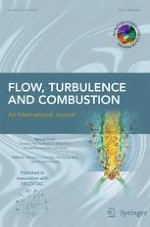 LES-based Study of the Roughness Effects on the Wake of a Circular Cylinder from Subcritical to Transcritical Reynolds Numbers
Zeitschrift:
Autoren:

Ivette Rodriguez, Oriol Lehmkuhl, Ugo Piomelli, Jorge Chiva, Ricard Borrell, Assensi Oliva
Abstract
This paper investigates the effects of surface roughness on the flow past a circular cylinder at subcritical to transcritical Reynolds numbers. Large eddy simulations of the flow for sand grain roughness of size
k
/
D
= 0.02 are performed (
D
is the cylinder diameter). Results show that surface roughness triggers the transition to turbulence in the boundary layer at all Reynolds numbers, thus leading to an early separation caused by the increased momentum deficit, especially at transcritical Reynolds numbers. Even at subcritical Reynolds numbers, boundary layer instabilities are triggered in the roughness sublayer and eventually lead to the transition to turbulence. The early separation at transcritical Reynolds numbers leads to a wake topology similar to that of the subcritical regime, resulting in an increased drag coefficient and lower Strouhal number. Turbulent statistics in the wake are also affected by roughness; the Reynolds stresses are larger due to the increased turbulent kinetic energy production in the boundary layer and separated shear layers close to the cylinder shoulders.