01.06.2015 | Ausgabe 2/2015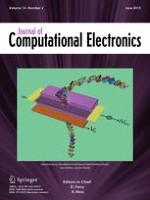 Monte Carlo simulation of hot carrier transport in III-N LEDs
Zeitschrift:
Autoren:

Pyry Kivisaari, Jani Oksanen, Jukka Tulkki, Toufik Sadi
Abstract
Recent measurements aiming to resolve the origin of the efficiency droop in III-Nitride (III-N) light-emitting diodes (LEDs) have given invaluable information on the phenomenon and reinforced the interest for detailed device-level simulations. We have developed a microscopic device-level Monte Carlo model of electronic transport in III-N multi-quantum well (MQW) LEDs to analyze their operation in more detail and to increase the understanding of hot electrons generated by Auger recombination and electron overflow. In this work we apply the model to simulate the LED structure studied experimentally by Lin et al. (IEEE Photonics Technol Lett 24(18):1600,
2012
) to compare the results to predictions given by the widely used drift-diffusion model and to investigate the relationship between the efficiency droop, Auger recombination, and the transport of hot electrons. To evaluate the reliability of the results and to enable comparison to other works, we also study how some of the most important uncertainties in the material parameters affect the results. In particular, we study how changing the polarization charges, properties of p-type GaN, and the sidevalley energy offset of the conduction band within the range reported in recent literature affects the results. Based on the results we discuss the difficulty to fit device-level models to measurements of the efficiency droop and the incomplete understanding of current transport in III-N MQW structures that might be limiting the development of next-generation optoelectronic devices.