01.08.2014 | Ausgabe 15/2014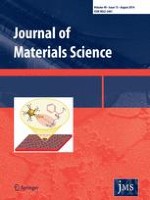 Morphology and antibacterial properties of plasticized chitosan/metallocene polyethylene blends
Zeitschrift:
Autoren:

Marie Matet, Marie-Claude Heuzey, Abdellah Ajji
Abstract
In this work, plasticized chitosan-based materials were produced through a molten process. A thermo-mechanical treatment was used to achieve chitosan plasticization in the presence of water, acetic acid, and glycerol. Water and glycerol acted as plasticizers, while acetic acid was used as a solvent and plasticizer for chitosan. The influence of acetic acid total content, chitosan/acetic acid solution ratio, and chitosan/glycerol ratio were examined in this study. The various plasticized compounds were blended with a metallocene polyethylene (mPE) and the morphology, rheological, and antibacterial properties of this novel blend system were examined. It was found that an increase in acetic acid content allowed better chitosan dissolution, while a higher glycerol concentration resulted in improved dispersion of the plasticized chitosan phase in the mPE. Following thermo-mechanical treatment, blends presented good antibacterial properties with a reduction of the number of bacteria (non-pathogenic
Escherichia coli
) by 2 log(CFU/mL) for the chitosan-containing systems with respect to neat mPE. Mechanical properties of the mPE/plasticized chitosan blends were improved by compatibilization with ethylene vinyl acetate, while antibacterial properties were not affected.