10.07.2021 | Ausgabe 3/2021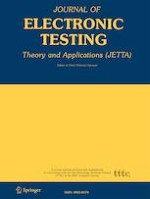 Spectrum Analyzer Based on a Dynamic Filter
Zeitschrift:
Autoren:

S. Herasimov, M. Borysenko, E. Roshchupkin, V. I. Hrabchak, Yu. A. Nastishin
Wichtige Hinweise
Communicated by M. Margala
Publisher's Note
Springer Nature remains neutral with regard to jurisdictional claims in published maps and institutional affiliations.
Abstract
A method for the design of a second-order recursive filter, optimal in terms of the bias error, and a method for the synthesis of the parameters of correlation filter spectrum analyzers based on it are presented. The improvement of technical characteristics of spectrum analyzers based on dynamic filters is obtained by the transition from analog to digital filtering. The structure of the recursive narrowband digital dynamic filter of the second order is optimized by the minimum relative dispersion of the power spectral density estimation. It is justified that the correlation-filter spectrum analyzer has two components of methodological error: approximation error and statistical error. Expressions for the relative approximation error of the power spectral density estimate for two versions of optimization respectively with the constant and piecewise-step law of change of the relative attenuation coefficient of the proposed second-order digital dynamic filter are derived. The results of experimental studies suggest that the spectrum analyzer based on the proposed recursive filter of the second order provides considerably higher accuracy (of the order of several percent) in comparison with classical filter analyzers with stationary non-reconfigurable filters of even higher-order (third and fourth). The advantages in the accuracy of digital correlation-filter spectrum analyzers with the use of a narrow-band digital dynamic filter of the second order are demonstrated. The theoretical and practical principles of their design are presented.