01.08.2016 | Thematic Issue | Ausgabe 15/2016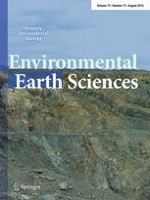 The water source situation and crises of the irrigation areas on the Loess Plateau at the origin of the Silk Road, China
Zeitschrift:
Autoren:

Zhao Liu, Lixia Wang, Xiu Yi, Quannian Mao, Yan Liu
Wichtige Hinweise
This article is a part of a Topical Collection in Environmental Earth Sciences on "Advances of Research in Soil, Water, Environment, and Geologic Hazards Along Silk Road" guest edited by Drs. Peiyue Li and Wanfang Zhou.
Abstract
The irrigation areas distributed on the Loess Tableland where the Silk Road begins have historically contributed greatly to the excellent agricultural civilization of China. However, increasing shortages of water resources and the resulting problems, such as the drainage of groundwater, ground fracturing and land subsidence, have emerged gradually in some parts of these irrigation areas; this has posed a large challenge to local people and water authorities in past decades. As the most essential issue for these irrigation areas, the water source, its condition and crises were analyzed by taking the Jinghuiqu Irrigation Area as an example in this paper. Considering the minimum environmental instream flow in the Jinghe River with different methods, a reasonable value of the average annual available runoff was evaluated for the Jinghuiqu Irrigation Area, and the water shortage was evaluated by considering two different types of water usage based on hydrological analysis and statistics. The results indicate that the situation is not promising as a whole. For some dry years, the available runoff is lower than the average annual water requirements of the irrigation area, and moreover, the situation will become increasingly worse if the runoff in the Jinghe River decreases continuously, which has been its tendency for the past few decades. Based on the severe groundwater situation, surface water should always be given priority in irrigation, and irrigating with groundwater should be strictly prohibited during wet periods and restricted during normal and dry years in the whole area.