04.06.2018 | Ausgabe 4/2018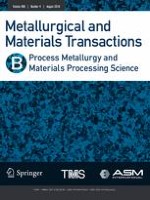 Transient Evolution of Nonmetallic Inclusions During Calcium Treatment of Molten Steel
Zeitschrift:
Autoren:

Lifeng Zhang, Yang Liu, Ying Zhang, Wen Yang, Wei Chen
Wichtige Hinweise
Manuscript submitted July 4, 2017.
Abstract
The transient evolution of nonmetallic inclusions after calcium addition in pipeline steels was investigated with a vacuum induction furnace. Samples were taken at 1, 5, 10, 15, and 20 minutes after calcium treatment in both MgO and Al2O3 crucibles. It was found that the total oxygen and the number density of inclusions were increased during calcium modification, while they were dropped to a low level in the last tapped sample. Due to the evaporation of calcium, inclusions were transferred from CaO-CaS to Al2O3-CaO-CaS, and then to Al2O3-CaO. The decomposition of CaS was highly dependent on the decrease of the total calcium and the increase of the total oxygen in the steel. Thermodynamic calculation was performed to predict the composition of inclusions considering the effect of the total oxygen and the total calcium and was validated by measurement. The relationship between the content of Al2O3 in inclusions and the ratio of the total calcium and the total oxygen in steels was measured and compared with the calculated one using thermodynamic software Factsage 7.0. The mass-transfer coefficient of the dissolved calcium in the steel was estimated in the range of 2.35 × 10−4 to 3.53 × 10−4 m/s.