01.01.2015 | Research Paper | Ausgabe 1/2015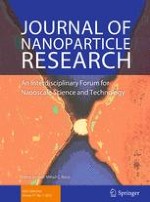 Water-soluble PEGylated silicon nanoparticles and their assembly into swellable nanoparticle aggregates
Zeitschrift:
Autoren:

Zejing Xu, Yejia Li, Boyu Zhang, Tapas Purkait, Alina Alb, Brian S. Mitchell, Scott M. Grayson, Mark J. Fink
Wichtige Hinweise
Electronic supplementary material
The online version of this article (doi:
10.​1007/​s11051-015-2869-9
) contains supplementary material, which is available to authorized users.
Abstract
Water-soluble silicon nanoparticles were synthesized by grafting PEG polymers onto functionalized silicon nanoparticles with distal alkyne or azide moieties. The surface-functionalized silicon nanoparticles were produced in one step from the reactive high-energy ball milling (RHEBM) of silicon wafers with a mixture of either 5-chloro-1-pentyne in 1-pentyne or 1,7 octadiyne in 1-hexyne to afford air and water-stable chloroalkyl or alkynyl-terminated nanoparticles, respectively. Nanoparticles with the ω-chloroalkyl substituents were easily converted to ω-azidoalkyl groups through the reaction of the Si nanoparticles with sodium azide in DMF. The azido-terminated nanoparticles were then grafted with mono-alkynyl-PEG polymers using a copper-catalyzed alkyne-azide cycloaddition (CuAAC) reaction to afford core–shell silicon nanoparticles with a covalently attached PEG shell. Covalently linked Si nanoparticle clusters were synthesized via the CuAAC "click" reaction of functional Si NPs with α,ω-functional PEG polymers of various lengths. Dynamic light scattering studies show that the flexible globular nanoparticle aggregates undergo a solvent-dependent change in volume (ethanol > dichloromethane > toluene) similar in behavior to hydrogel nanocomposites.