01.10.2019 | XXIII INTERNATIONAL SYMPOSIUM "NANOPHYSICS AND NANOELECTRONICS", NIZHNY NOVGOROD, MARCH 11–14, 2019 | Ausgabe 10/2019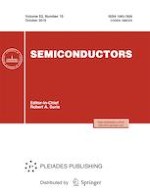 Comparative Analysis of the Luminescence of Ge:Sb Layers Grown on Ge(001) and Si(001) Substrates
Zeitschrift:
Autoren:

A. V. Novikov, D. V. Yurasov, N. A. Baidakova, P. A. Bushuykin, B. A. Andreev, P. A. Yunin, M. N. Drozdov, A. N. Yablonskiy, M. A. Kalinnikov, Z. F. Krasilnik
Wichtige Hinweise
Translated by E. Smorgonskaya
Abstract
Comparative studies of the luminescence properties of Sb-doped Ge layers grown on Ge(001) and Si(001) substrates are carried out. It is shown that, in contrast to the case of Ge:Sb layers grown on Si, a considerable contribution to the photoluminescence signal from Ge:Sb/Ge(001) layers is made by indirect optical transitions. This fact is attributed to the longer charge-carrier lifetime in Ge:Sb/Ge homoepitaxial structures because of the lack of crystal-lattice defects related to the relaxation of elastic strains in such structures. It is shown that the experimentally observed significant increase in the contribution of direct optical transitions to the total photoluminescence signal with increasing doping level of Ge:Sb/Ge(001) layers results from an increase in the population of electron states in the Γ valley. At Sb concentrations much higher than the equilibrium solubility of Sb in Ge, partial electrical activation of the impurity is observed, and in this case, a profound effect on the emission properties of Ge:Sb layers grown on different substrates is produced by nonradiative-recombination centers, whose role can be played by clusters of impurity atoms.