01.06.2015 | Ausgabe 3/2015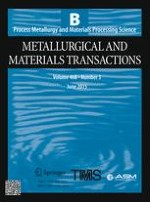 Effect of Tetra Propyl Ammonium Bromide During Cobalt Electrodeposition from Acidic Sulfate Solutions
Zeitschrift:
Autoren:

Pinak Patnaik, Bankim Chandra Tripathy, Indra Narayan Bhattacharya, Raja Kishore Paramguru, Barada Kanta Mishra
Wichtige Hinweise
Manuscript submitted June 10, 2014.
Abstract
In the current study, the effect of an organic additive tetra propyl ammonium bromide (TPAB) on the structural, morphological characteristics of the cobalt metal produced from aqueous sulfate solutions has been investigated. The concentration of TPAB was varied over a range of 1 to 50 mg/L to evaluate its effect on current efficiency, energy consumption, and quality of electrodeposited cobalt. Smooth and bright electrodeposits of cobalt were obtained at low concentration of TPAB (10 mg/L) maintaining a current efficiency of 99.4 pct, with a low energy consumption of 2.42 kWh/kg. X-ray diffraction studies revealed that (100) plane is the most preferred plane of crystal growth during cobalt electrodeposition. However, at higher concentrations, the (101) plane became the most preferred one. Scanning electron micrographs indicated that smooth and uniform deposit of cobalt was obtained at 10 mg/L beyond which the deposit quality deteriorates. The presence of TPAB in the electrolytic bath polarizes the cathode and decreases the cathodic current considerably. AAS results indicated that the cobalt deposits were of high purity.