01.06.2015 | Ausgabe 3/2015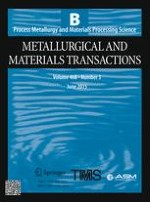 Anodic Corrosion Behavior of NiFe2O4-Based Cermet in Na3AlF6-K3AlF6-AlF3 for Aluminum Electrolysis
Zeitschrift:
Autoren:

Zhongliang Tian, Yanqing Lai, Shu Yang, Jie Li, Jiann-Yang Hwang, Yexiang Liu
Wichtige Hinweise
Manuscript submitted June 16, 2014.
Abstract
A (Cu,Ni)/(10NiO-NiFe2O4) cermet was tested as an inert anode for aluminum electrolysis in Na3AlF6-K3AlF6-AlF3 melt at 1173 K (900 °C), and its corrosion behavior was studied. The results show that the low-temperature Na3AlF6-K3AlF6-AlF3 bath is beneficial, improving the service conditions. With the combined effects of the electrolyte composition and the nascent oxygen during electrolysis, the metal phase (Cu,Ni) at the surface of anode will not be leached preferentially, but be transferred into the aluminates including FeAl2O4, NiAl2O4 and CuAl2O4. This is helpful for the anode to improve its corrosion resistance.