01.01.2015 | Ausgabe 1/2015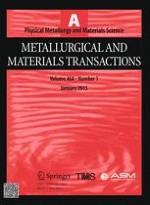 Influence of Carbide Morphology and Microstructure on the Kinetics of Superficial Decarburization of C-Mn Steels
Zeitschrift:
Autoren:

Henrique Duarte Alvarenga, Tom Van De Putte, Nele Van Steenberge, Jilt Sietsma, Herman Terryn
Wichtige Hinweise
Manuscript submitted January 16, 2014.
Abstract
Decarburization is an important process during the heat treatment of steels. It can be divided into three separated events: dissolution of carbides, diffusion of carbon through the iron matrix, and surface reactions. The process is very sensitive to temperature. During intercritical annealing, austenite nucleates in the cementite-ferrite interface and grows at the rate determined by the diffusion of carbon in austenite. The presence of a decarburizing atmosphere during annealing guides the carbon diffusion in ferrite toward the surface, generating a flux of carbon from austenite toward ferrite, disturbing the austenite growth. In the presence of pearlite, the ferrite-austenite interface can be assumed to remain static until pearlite is completely dissolved, reducing then the carbon flux in austenite, consequently diminishing the austenite formation rate. At intercritical temperatures, the cementite-free ferrite layer at the surface reaches a greater width due to the combination of the thermodynamic fraction of austenite, dissolution rate of cementite, and the diffusivity of carbon in austenite and ferrite. In this study, an experimental investigation of the effects of the carbide morphology and distribution and the
\(\alpha -\gamma \)
phase transformation in the decarburization kinetics on hypo-eutectoid steels is presented. It is suggested that the change of the dissolution kinetics of the carbides due to its morphology will affect the austenitization kinetics. Thus, the distribution of the carbon in the microstructure may determine the rate of decarburization in combination with the carbon diffusion through the phases or the gas-metal reactions.