01.06.2011 | Paper | Ausgabe 4/2011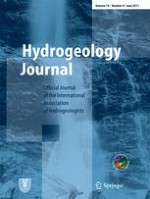 Major-ion chemistry, δ13C and 87Sr/86Sr as indicators of hydrochemical evolution and sources of salinity in groundwater in the Yuncheng Basin, China
Zeitschrift:
Autoren:

Matthew J. Currell, Ian Cartwright
Abstract
Processes controlling hydrogeochemistry in the Yuncheng Basin, China, were characterised using major-ion chemistry,
87
Sr/
86
Sr ratios and δ
13
C values. Evapotranspiration during recharge increased solute concentrations by factors of ∼5–50 in deep palaeowaters, while higher degrees of evapotranspiration have occurred in shallow, modern groundwater. Aquifer sediments (loess) contain approximately 15 weight% calcite; trends in groundwater HCO
3
concentrations and δ
13
C values (ranging from −16.4 to −8.2‰) indicate that carbonate weathering is a significant source of DIC. Groundwater
87
Sr/
86
Sr ratios (0.7110–0.7162, median of 0.7116) are similar to those in both loess carbonate (0.7109–0.7116) and local rainfall (0.7112), and are significantly lower than Sr in aquifer silicates (0.7184–0.7251). Despite evidence for substantial carbonate dissolution, groundwater is generally Ca-poor (< 10% of total cations) and Na-rich, due to cation exchange. Saturation with respect to carbonate minerals occurs during or soon after recharge (all calcite and dolomite saturation indices are positive). Subsequent carbonate dissolution in the deep aquifer must occur as a second-stage process, in response to Ca loss (by ion exchange) and/or via incongruent dissolution of dolomite and impure calcite. The latter is consistent with positive correlations between δ
13
C values and Mg/Ca and Sr/Ca ratios (
r
2
 = 0.32 and 0.34).