20.04.2020 | Research Article-Biological Sciences | Ausgabe 6/2020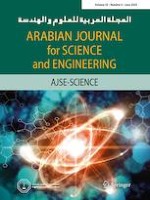 Phytoconstituents and Their Potential Antimicrobial, Antioxidant and Mosquito Larvicidal Activities of
Goniothalamus wightii

Hook. F. & Thomson
Zeitschrift:
Autoren:

Vino Palani, Murugesh Shanmugasundaram, Viji Maluventhen, Santhosh Chinnaraj, Wenchao Liu, Balamuralikrishnan Balasubramanian, Maruthupandian Arumugam
Wichtige Hinweise
Balamuralikrishnan Balasubramanian contributed as first author.
Abstract
The study aims to determine the bioactive components, microbial potency against pathogens, antioxidant and larvicidal activities of
Goniothalamus wightii
leaves extracts by using different organic solvents as hexane chloroform, ethyl acetate, methanol, ethanol and aqueous. Further, methanol extract was exhibited to be most effective when compared to other extraction of phytochemicals and its use for further analysis of biological activities. Alkaloid content ranged from 68.42 ± 1.36 (mg AE/g), flavonoid content ranged from 76.80 ± 2.80 (mg QE/g), and phenolic content ranged from 67.50 ± 2.55 (mg GAE/g), respectively. The metabolites are identified and characterized by using HPTLC biomarker, the presence of different types of
Rf
values ranged from 0.02 to 0.94, and FT-IR spectrum and GC–MS analysis displayed 25 biochemical compounds which are liable for the various biological activities. Based on their compounds, they evaluated that antimicrobial activity highly inhibits against the bacterial species of
Streptococcus pyogenes
,
Staphylococcus aureus
,
Klebsiella pneumoniae
,
Proteus vulgaris
and fungal species of
Candida albicans
,
Aspergillus fumigatus
,
Fusarium oxysporum
and
Trichoderma virideae
. In vitro antioxidant assays activities showed that 70% inhibited against the free radicals. Additionally,
G. wightii
methanol extract was contrary to the mosquito larvae of
Culex quinquefasciatus, Aedes aegypti
and
Anopheles stephensi
in 24 h; and LC
50
and LC
90
were calculated. In conclusion, these findings suggested that the
G. wightii
extract may be valuable natural antioxidant sources and potentially applicable for both therapeutic and industrial uses.